HUB Maple Ridge/Pitt Meadows needs your voice on two projects: (ps – it's quick!)



First …

Let's build a trail from Wharf Street to Airport Way !




The sewer line is being upgraded just west of the Golden Ears Bridge from Wharf Street to Airport Way. This is a great opportunity to advocate for a multi-use pathway over the sewer line to connect Wharf Street to Airport Way between Bonson's Landing and the bridge roundabout. Such a pathway would provide a safe walking and cycling connection between Hammond and Osprey Village in Pitt Meadows and the dike network beyond. 

If you support this idea, please give your feedback here: (by February 10, 2021)
Thanks for your help!
Second:
Make Lougheed Highway SAFE for cyclists and pedestrians.
The Ministry of Transportation and Infrastructure (MoTI) plans to widen the Lougheed Highway from 266th to 287th making it 4 lanes with a centre median barrier and a 2 meter unprotected shoulder with outside concrete barrier – similar to this: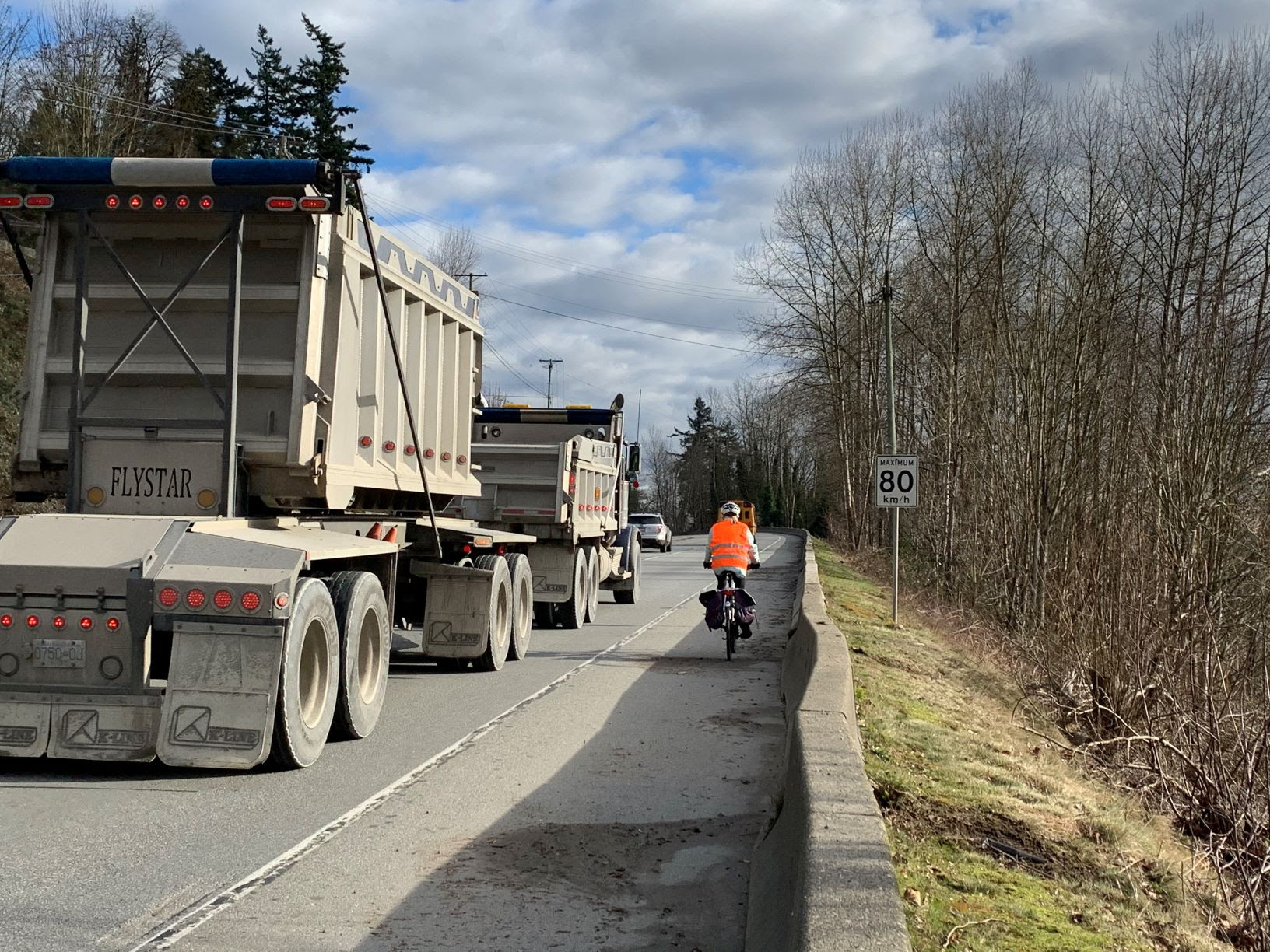 We feel this design is not safe nor comfortable for people walking and cycling. MOTI is following the old guidelines from the Transportation Association of Canada. In 2019 the BC government released their own BC Active Transportation Design Guide, based on current research and best practices. According to this guide a road such as Hwy 7 should have protected infrastructure for cycling/walking or other active transportation modes. What is being planned here is obviously dangerous for people cycling and walking. MoTI can and must do better!
Daphne Toumbanakis, a 23-year young woman and confident cyclist, died just last year riding on a stretch of Highway 7 identical to the proposed design for this project. We should not accept any more cyclist deaths due to poor design practices. Please give your feedback to MoTI. (More links below)
Highway 7 is an important designated bike route and as such an integral part of the regional and local cycling network, according to MoTI, according to TransLink (who designate it as part of the Major Bikeway Network), and according to the City of Maple Ridge. Also, Metro Vancouver has determined that Highway 7 is an important part of the Regional Greenway 2050 network. Of course it's an important route, because there's simply no alternative.
Please help us to hold governments to account. Click here for information about the project and to submit your comments. Please request that MoTI follow its own guidelines, and include concrete barriers to protect vulnerable road users from fast moving cars and trucks.
YOUR VOICE COUNTS – Please take a minute to comment.
Visit project webpage: engage.gov.bc.ca/highway7widening266-287
Online Feedback Form: engage.gov.bc.ca/highway7widening266-287
Email: Hwy7.266to287@gov.bc.ca
Mail: Ministry of Transportation and Infrastructure, 310-1500 Woolridge, Coquitlam, BC, V3K 0B8 Attention: Highway 7 – 266 Street to 287 Street
Phone: 604-527-2221
Let's make it safe for all users:
More information:
Cycling Maple Ridge/Pitt Meadows letter to MoTI dated October 16, 2020
TransLink e-mail to MoTI dated November 2, 2020
Response letter from MoTI dated December 4, 2020 
HUB Maple Ridge/Pitt Meadows letter to Minister of State Bowinn Ma December 14, 2020
HUB Maple Ridge/Pitt Meadows letter to Maple Ridge Council dated January 23, 2021 re MoTI presentation at Council Workshop
Recording Council Workshop January 26, 2021 (MoTI presentation on Hwy 7 widening starts at 3:45, Comments and questions Mayor and Council starts at 27:00)
 
Visit the HUB website at: https://bikehub.ca/ and the Maple Ridge/Pitt Meadows committee's blog at: http://www.rmcyclist.info/.