Hello Riders and Readers – I'm pleased to announce the launch of: 
Let's Go Biking to the Okanagan and Beyond
Available in book stores, bike shops and gift stores throughout BC or order online at letsgobiking.net/book
• All July purchases will be entered to win Free Prizes – including the Kinekt Seatpost, Arkel Map Cases, Axiom Trunk Bag, Project 529 kits, Humble Roots Gift Certificates. More prizes added daily.

• Let's Go Biking guidebooks are must-haves for anyone wanting to explore easy routes by bike or on foot in British Columbia
• 36 easy-to-follow maps, over 140 routes with turn-by-turn instructions, surface conditions and level of difficulty
• Helpful tips – places to eat and visit and things to see

• Purchase includes donation to local trail groups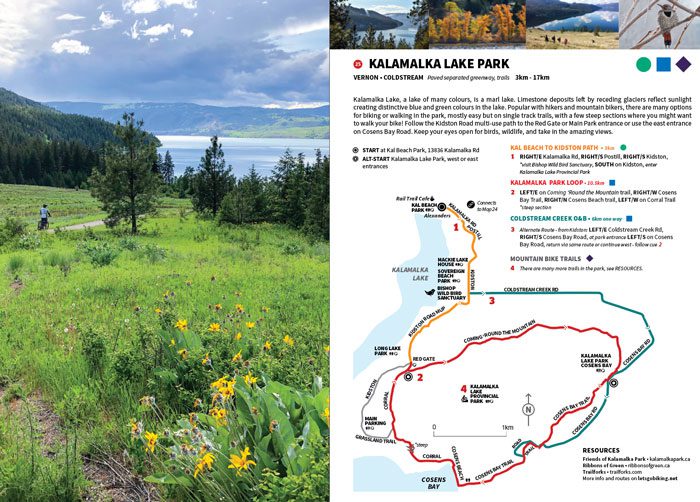 In this book you'll discover over 140 easy, interesting and adventurous routes from Osoyoos to Shuswap Lake and across southern British Columbia. Enjoy traveling the Myra Canyon, Kettle Valley Railway, Okanagan Rail Trail, and The Great Trail of Canada.  Meander along rivers and lakeshores, explore mountain and valley trails, and visit farms and wineries. With distances ranging from 5km to more than 75km, these routes are fun for families, seniors and explorers of all ages who like to stop and smell the roses.                     
There's something for everyone to discover on foot or bike from flat scenic rail trails, city greenways, quiet country roads, mountain trails and exciting new e-bike routes! With its mild climate and stunning scenery, there's no better way to see the Okanagan's lakes and vineyards. This is the must-have guidebook for those looking to discover exciting British Columbia destinations.
Happy Riding ! ~ Colleen
Pick up at your local store or order online at letsgobiking.net/book