Canada orders only. Other countries please choose Book + eBook Bundle to offset shipping costs
Already have one of our books? Check out the MAX BUNDLE for two paperbacks + two ebooks.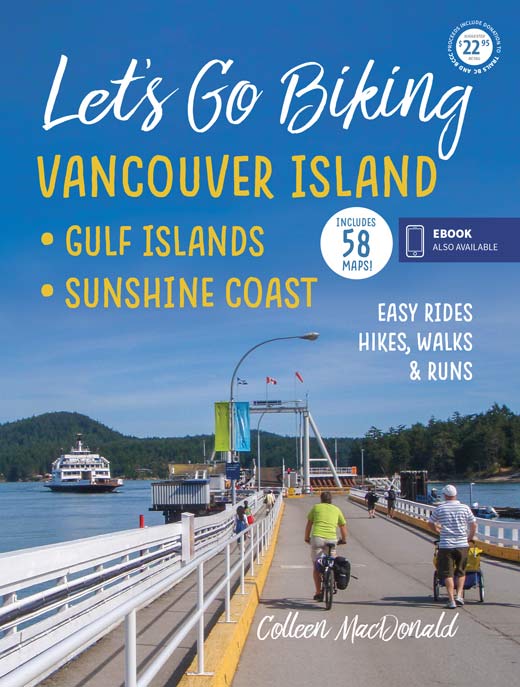 VANCOUVER ISLAND
In this book you'll discover over a hundred easy, interesting and adventurous routes on Vancouver Island, the Gulf Islands and the Sunshine Coast. Meander along rivers and lakeshores, explore mountain and valley trails. With distances ranging from 5km to more than 75km, these routes are fun for families, seniors and explorers of all ages who like to stop and smell the roses.
There's something for everyone to discover on foot or bike from flat scenic rail trails, city greenways, quiet country roads, mountain trails and exciting new e-bike routes! With its mild climate and stunning scenery, there's no better way to see this amazing region. This is the must-have guidebook for those looking to discover exciting British Columbia destinations.
58 easy-to-follow maps: Vancouver Island, Gulf Islands, Sunshine Coast
Something for everyone — from flat scenic trails to quiet country roads
Includes donation to HUB Cycling, Trails Society of BC and BC Cycling Coalition
Paperback, 8 x 10.5", 100 pages all colour • ISBN 978-1-7753081-6-4 • $22.95
---
What's inside
Easy to read directions and maps. Designed to take along for the ride.
About the author
Colleen MacDonald is the author of the popular biking blog Let's Go Biking. She has written books about local history, as well as children's stories. Colleen has cycled all over the world and still thinks British Columbia is one of the best places to cycle. She spends her time in Belcarra and Whistler, BC.
Distribution: Let's Go Biking can be ordered through our distributor: Sandhill Books.