There's lots to see and do in Deep Cove on this cycling and walking route. See the ruins of the old mill in Cates Park, ride through Dollarton, choose the flat Spirit Trail, or climb the hills and trails of Cove Cliff. Add on a stretch along Panorama for views of the cove and Indian Arm. Explore the quaint Deep Cove village — visit the wharf, stores and galleries, and stop at Honey's for a famous RolyPoly donut!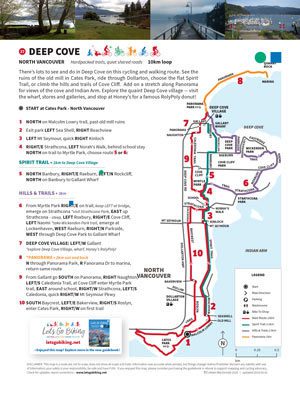 Get the route map (PDF) by entering your name and email address below.
You'll be subscribed to my monthly newsletter if you're not already a subscriber.
I will not sell or distribute your email address. Your information will be kept confidential. You may unsubscribe anytime. Questions? Email colleen @ letsgobiking.net
I agree with the
Terms & Conditions
2017: Many thanks to Proof-Riders Erika and Christy-Lynn for route suggestions, feedback and ideas on this route!