From broad valleys with orchards and cozy farms and a variety of shorelines in between, there's exciting cycling in the Shuswap and there are dozens of routes in the new guidebook: Let's Go Biking to the Okanagan & Beyond.
There's something for everyone from easy exploring in Salmon Arm, to road biking in Notch Hill and Tappen, through orchards with sweeping lake views and along the Shuswap lakeshore. Explore White Lake, visit Blind Bay and Sorrento. Take a loop around Mt. Ida on scenic back roads through three river valleys: Salmon River, Shuswap River, and Deep Creek. Tsútswecw-Roderick Haig-Brown Park is home to the Adams River sockeye salmon run, one of the largest in the world. Come in October to see the spawning channel, hike the historic Flume Trail, and see the Bear Creek waterfall. This area offers something for everyone, from easy park trails and singletracks to long distance road biking. Watch for the opening of the future Sicamous-Armstrong Rail Trail. All rides and maps available in the new guidebook Let's Go Biking to the Okanagan & Beyond, available at book stores, bike shops and gift shops throughout BC or online at letsgobiking.net. Also available as an ebook.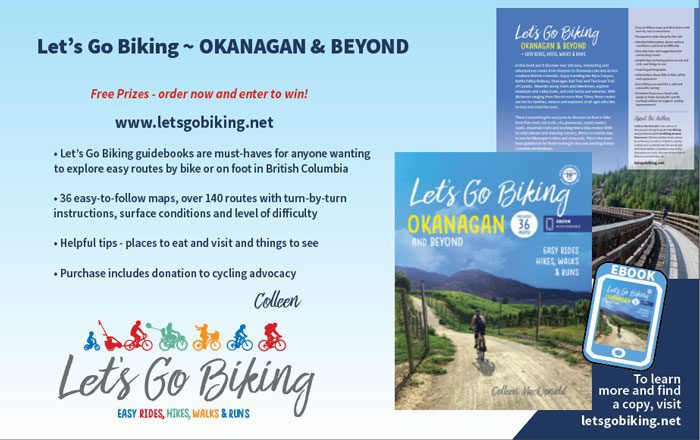 For map and route information, helpful tips and day trip suggestions, pick up a copy the new guidebook Let's Go Biking the the Okanagan & Beyond at your local bookstore or bikeshop or order online.
Useful Links
More information and routes
Shuswap Trails • shuswaptrails.com
BC Parks • bcparks.ca/explore/parkpgs/tsutswecw/     
Columbia Shuswap Regional District • csrd.bc.ca     
Regional District North Okanagan (RDNO) •  rdno.ca     
Salmon Arm • salmonarm.ca     
Trailforks • trailforks.com