Sometimes there's the perfect ride — this is one of my favourites — the river and valley views are spectacular. The route follows the The Great Trail through farm fields along the Fraser River to Fort Langley. For a shorter ride start at Derby Reach Park, explore the quaint town of Fort Langley and enjoy lunch or an ice-cream! Add on a visit to Brae Island Park or visit the 1827 Historic Fort.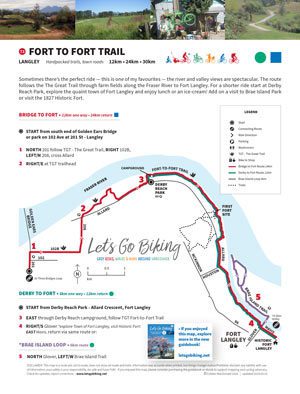 View route map
It's called the Fort to Fort because it passes by the site of the original Fort Langley near Derby, to the 1827 Historic Fort Langley Museum.  More information at Fort to Fort History and  More about Fort Langley
Link to GVRD Fort to Fort Trail Map
Proof Riders Gallery
Thanks to the Proof-Riding Dodds family for suggestions and photos.