Ladner is a cyclist's dream … flat … scenic … and fun! Visit the quaint town of Ladner, then explore many trails — Brunswick Point, Great Blue Heron Way, through Tsawwassen and Beach Grove then onto Boundary Bay Trail. Return via 64th street back — what a loop!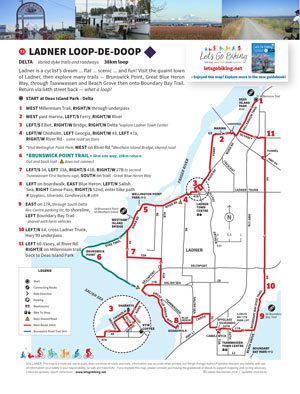 View route map
RIDER ALERT:  The Brunswick Trail is now closed just before the railway tracks.  There is a ditch connecting to 34 St, but difficult to cross.   More information: TrailsBC Delta Routes
Looking for coffee in Tsawwassen? Here's an add-on 'cafe' loop thanks to reader Sandra J.
1. Petra's by L'Aromas coffee shop on 12Ave at 56St is the cycling go to cafe
2. Beach Grove Cafe EAST on 12Ave – wide and easy for cyclists, LEFT/N Beach Grove Ave
3. In the summer the Beachside Café at Centennial Beach is open, too. At the east end of 12 Ave bike on the dike south to Centennial Beach on Boundary Bay. Return the same way and take Beach Grove Road to the 17A Ave dike entry to head back north.
Useful Links
Delta bike map – pocket version available at libraries and City Hall