Three parks in South Surrey offer something for everyone. Beginners can explore Crescent Beach, Elgin Park and Serpentine Fen. More advanced riders can loop the parks together for a 30km ride with views west across Boundary Bay and north to Vancouver's Mountains. There is lots to see along the way…meandering wetland trails, the Nicomekl River, ducks and birds, and a historic farm.
Get the route map (PDF) by entering your name and email address below.
You'll be subscribed to my monthly newsletter if you're not already a subscriber.
I will not sell or distribute your email address. Your information will be kept confidential. You may unsubscribe anytime. Questions? Email colleen @ letsgobiking.net
I agree with the
Terms & Conditions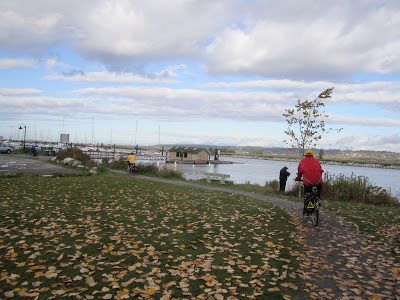 Along the Nicomekl River
Want more? Thanks to blog reader Debbie C for this suggestion: "we lengthen our ride by going over the one way Elgin Dam Bridge. Once we're over we ride the farm lands north of the Nicomekl River. It's a combination of 40 Ave and 140 Street. These are quiet roads that take you past lovely dairy farms."