It's Cranberry Harvest Time and many Let's Go Biking routes lead to some of the Best Cranberry fields in the World. Pitt Meadows and Maple Ridge are great places to watch the cranberry harvest in late October and early November.  You can go as far as you like on dyke trails and quiet shared roads.  You'll see cranberry fields, brilliant blueberry bushes, pumpkin patches, three rivers, and an airport. Take the short route along the Alouette River or ride the whole circle.  There are many cranberry bogs to see and the harvest rotates from one field to the other.
Do you know cranberries are native to BC and were used by the First Nations as food, dye and medicine.  They were traded to the Hudson's Bay Company for goods and at one point during the Gold Rush were worth more than gold.  According to the BC Cranberry Growers, "eighty growers located in the fertile lower Fraser Valley and on Vancouver Island, produce in excess of 750,000 barrels (1 barrel = 100 lbs) of cranberries annually,  12% of the cranberry production in North America. Cranberries are mostly exported to make sweet dried cranberries, frozen berries and cranberry juice. 
Here's the full circle and shortcut: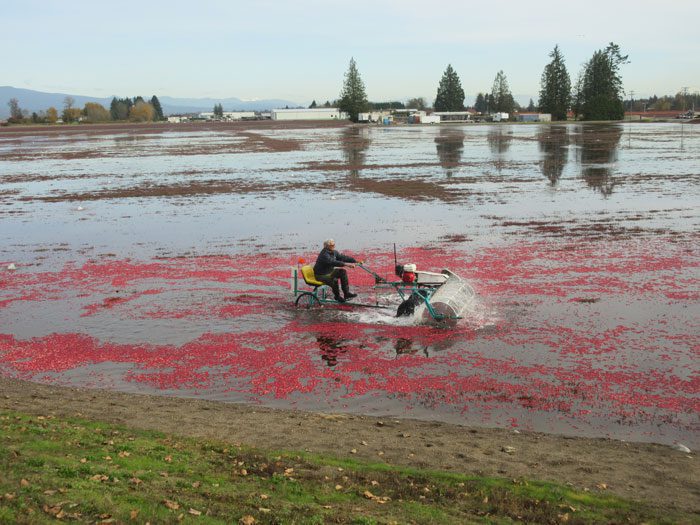 The beater pulls the cranberries off the vines. Each berry has four air pockets, which makes it naturally buoyant. Once the field is completely beaten, the water is raised to two to three feet then the berries are herded towards the sorting machine.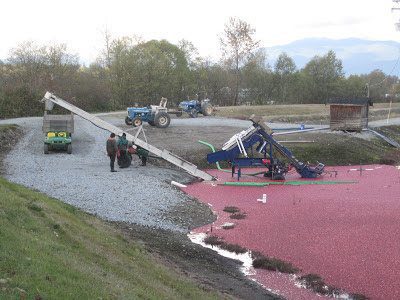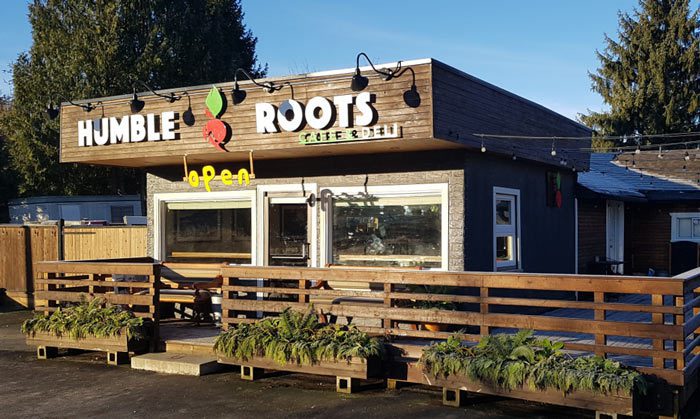 I love to bike to coffee & lunch … and I've discovered Humble Roots Cafe on 224th at 132nd in Maple Ridge. Manager Tyler Toews is working towards making Humble Roots a great cycling destination with great food & coffee, and will soon be installing  bike racks. You can pick up a copy of Let's Go Biking at the store.
Cranberries and Pumpkins Go Together:  Visit the Laity Pumpkin Patch – now with two locations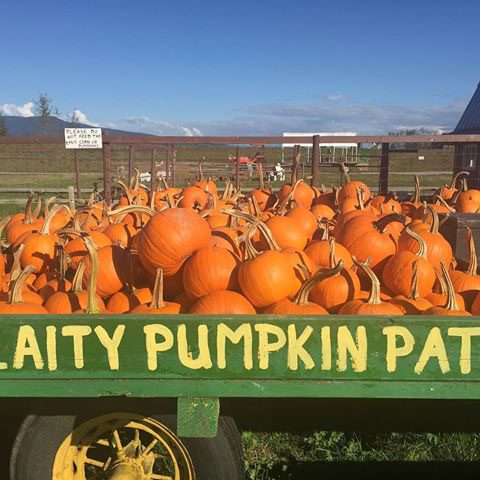 For a shorter route with the kiddies, ride past two cranberry bogs on the Pitt River Greenway and watch small planes come and go at Pitt Meadows Airport!