There's over 40km of Valley Trail to explore in Whistler. My favourite route visits Lost Lake, Green Lake, and Alta Lake. For a Five-Lake tour, add on Nita and Alpha Lakes! The route is great for cyclists, walkers, and runners. There's art to find along the way – look for giant ravens on the Valley Trail, an old car, and giant chairs in Alta Lake Park.
Get the route map (PDF) by entering your name and email address below.
You'll be subscribed to my monthly newsletter if you're not already a subscriber.
I will not sell or distribute your email address. Your information will be kept confidential. You may unsubscribe anytime. Questions? Email colleen @ letsgobiking.net
I agree with the
Terms & Conditions
For fun and scenic rides, walks and runs, pick up a copy of Let's Go Biking Around Vancouver, available in your local bike and bookstores or order online at Let's Go Biking.
*Pick up a copy at Armchair Books in Whistler.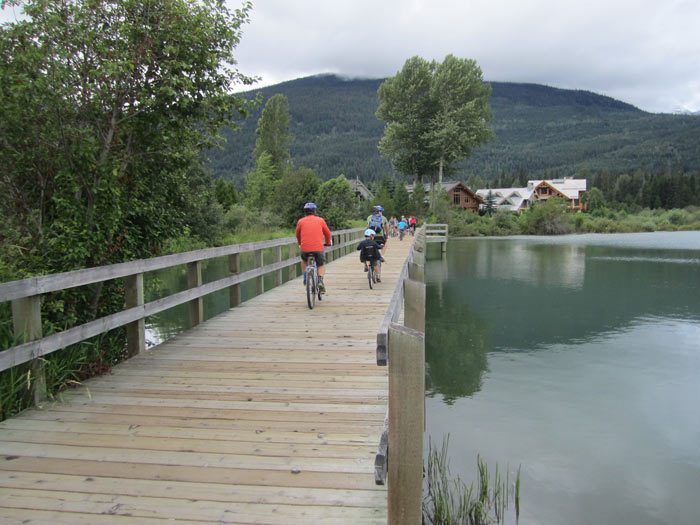 Ride along the shores of Green Lake to through Meadow Park. Look for beavers on the lakeshore.
What are the ravens made of? Bicycle Tires! Look for these giant sculptures at the north end of Whistler Golf Course.
Rainbow Park
This is a great ride for beginners. I like to start from the village and ride WEST through the underpass to the Whistler Golf Course, then through Whistler Cay following the signs to Rainbow Park. There's lots to do at the park — playground, picnic tables, swim in the lake. The trails loop and circle and you'll have fun exploring these mostly flat rides.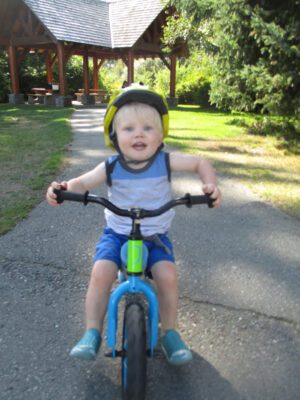 The new Whistler Valley Trail 2019 Map makes exploring EASY !!! Maps are posted along the route or pick one up at the Village Host kiosks on the Village Stroll or near the Olympic Rings. Link to all Whistler Maps.
Mountain Biking: for the more adventurous there are many mountain bike trails higher up the hillsides.  They are colour-coded for difficulty.  Check out the interactive trail map or just head out to Lost Lake and find the green signs. Couldn't be easier … and if I can do them, then so can you !  Trailforks has a great map – explore some new routes here: Trailforks – Whistler
Whistler's Hidden Gems Ride: When I take guests on a tour of the Valley Trail this is our route.  I hope you enjoy it, too.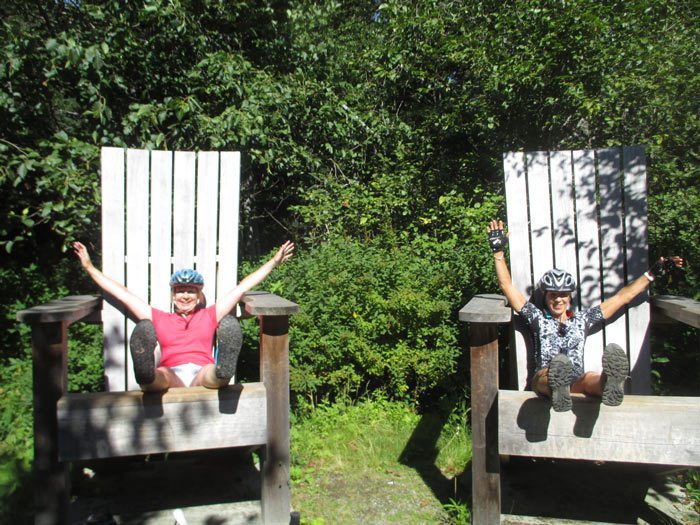 Here's some route ideas from Whistler Tourism.
For a multi-modal trip, ride the Sea to Sky Trail down to Function Junction for coffee and return to Whistler by bus! It's fast and easy. Buses have bike racks with room for two bikes. Here's a video on how to load your bike onto the rack and a link to the Whistler Bus Schedule.