There's a great ride on the Semiahmoo Penninsula and into Birch Bay.  The route is fun anytime of the year, but especially interesting from May to September when The Plover runs from Blaine Harbour to Semiahmoo. Semiahmoo Spit is scenic and easy – you'll feel as if you're on an island!  The 32km ride follows much of the Coast Millennium Trail, which is separated from traffic.  You can make an easy  loop back to Semiahmoo Park.
How to get there:  One choice is to ride from the Canadian side of the border – park at Peace Arch Park and ride up to the border.  Don't forget your passport!  The path to Blaine is safe and separated and you can explore Blaine Harbour then head out on Drayton Harbour Road.  Be aware that Drayton Harbour Road is narrow, has no shoulder and is shared with cars, so if you're cycling with the kiddoes, consider driving to Semiahmoo Spit Park and starting from there.
We enjoyed a ride along the Birch Bay shoreline,  busy mid-summer with the Sandcastle Building Contest and saw lots of families cycling in the painted bike lane along most of the bay. Returning to Semiahmoo Pennisula, our friend Keats showed us a 'short cut' up through Horizons subdivision which took out the hill climb up Shintaffer Road.  There are lots of choices to your route, please let me know if you have a favourite ride near this area and I'll add it to the blogpost.
Thanks to blog readers Keats & Gail for showing us their route!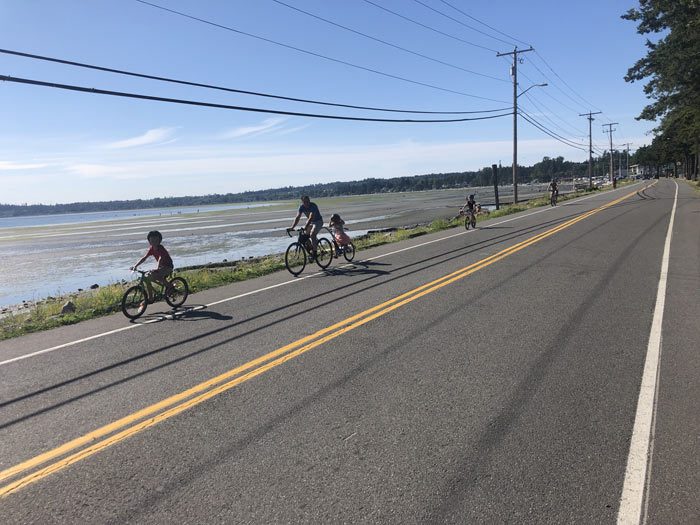 "If you're going to Semiahmoo in the summer, the small ferry "Plover" runs every weekend through the summer: 10-6 Friday and Saturday, and 12-8 on Sundays, on the hour at Blaine, and half-hour at Semiahmoo.  You can take your bike across to Semiahmoo Spit, and return. Note they have room for only 4 bikes at a time so get there early if you're hoping to take the boat. There are no set fees, but donations ($5 for round trip) help to maintain the boat.  It is actually an old work boat used to ferry workers to and from Blaine to the cannery operation on the spit years ago. You can catch it at the Blaine marina, and that will save you from riding through Blaine and along the narrow and sometimes busy Peace Portal Drive and other roads towards Semiahmoo and Birch Bay.  It is a fun half-hour crossing." (Thanks to blog reader Gail for this information.)
Useful Links