Greater Vernon is "Trails Capital of BC." The Ribbons of Green Trails Society, in partnership with the Regional District of North Okanagan, says the trademark celebrates the multitude and quality of trails in the area.
Framed by three scenic lakes, rolling hills and Silver Star Mountain, Greater Vernon offers a wide variety of trail experiences through all four seasons.
Locals and tourists are encouraged to experience the plethora of trails in the city and surrounding areas. Try a multi-use path that leads from downtown Polson Park towards the lakes. Wander through forests, grasslands; along creeks and waterfalls; next to fruit orchards, grazing horses and curious llamas.
Travel into the past, as you trek 30 km along sections of the historical Grey Canal Trail, a former irrigation canal. Each trail section offers unique topography with distinctive panoramic views. Remnants of the elaborate system of ditches, siphons and flumes can be found along the trail with interpretive signs.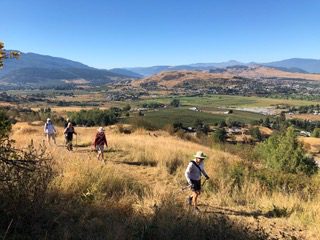 Climb to the summit of Middleton Mountain, meandering through the Farnsworth Nature Reserve, marveling at a spectacular 360-degree view of the entire area. Gaze at soaring raptors along the Swan Lake Nature Reserve trails.
Explore picturesque trails in four nearby Provincial Parks at Ellison, Kalamalka Lake, Kekuli Bay and Silver Star. World-class tourist locations, SilverStar Mountain Resort, Sovereign Lake, and Predator Ridge Resort, are a haven of unique trails and facilities to be investigated. 
Head south to Lake Country via the Okanagan Rail Trail alongside Kalamalka Lake – lake of many colours. Loop back to Vernon on the equally exquisite Kal Crystal Waters trail.
There is something for everyone in the Trails Capital of BC. Depending upon the season and trail, users can enjoy Greater Vernon trails and routes by walking, hiking, road and mountain biking. Some trails are suitable for horse-riding, and others are accessible by wheelchair, or roller blading. Trails at higher elevations are renown for cross-country skiing and snowshoeing. Come and experience them for yourself!" By Ingrid Neumann, Ribbons of Green Trails Society Director
For more information on Greater Vernon trails, visit Ribbons of Green at www.ribbonsofgreen.ca
and see Colleen MacDonald's informative book, Let's Go Biking: Okanagan and Beyond