Bike the Night
Bike the Night will be back in 2024.
The largest night ride in BC with open and car-free streets and thousands of riders experiencing Vancouver's most iconic roadways after dark. Bikes decked out with lights, costumes on, grandkids loaded in the cargo bike, spreading good cycling vibes with thousands of other riders of all ages on a 10 kilometer slow roll.
HUB Cycling is a registered charity that has been working for over 25 years to remove barriers to cycling and improve our communities, our health and our environment.  
I can't say enough about HUB and all they do for cycling!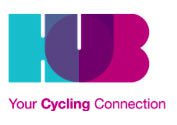 HUB Cycling gets more people cycling … more often.