If you're looking for a guided tour of great places to explore in Vancouver, Vancouver Island, on The Great Trail and into the Okanagan's Kettle Valley Railway, I highly recommend Into the Wild Cycling Tours. My husband Ian and I went on one of their five day tours early this summer and were beyond impressed.
Born in Ireland, Paul Taplin fell in love with the nature and beauty of British Columbia. He founded Into The Wild Cycling Tours to share his passion and showcase BC's highlights with locals and visitors from all over the world. "The bicycle tour company is a lifestyle choice for me, I truly love my job, taking people out on bikes and guiding them into some pretty amazing places."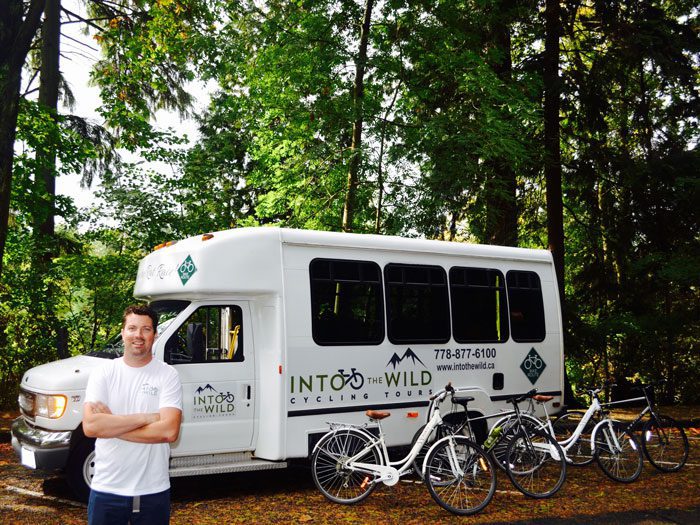 Paul creates hiking and biking adventures for people of all ages and makes the wilderness accessible to everyone. Into The Wild Tours are tailored for all fitness levels on safe and easy trails – away from cars. From private bespoke tours to group excursions you will enjoy the highlights of the trail with the luxury of a support vehicle as you shuttle between trailheads, towns and regions. The tours are incredible value with comfortable bikes, fabulous accommodations and meals. 
There are exciting places to explore from Vancouver Island to the Okanagan and Kootenays. Ride the Galloping Goose Trail, cross Shawnigan's Kinsol Trestle, hike through Vancouver's Rainforest amidst ancient cedars, and meander through the Fraser Valley on dyke trails through blueberry fields and cranberry bogs. Ride Rails-to-Trails beside turquoise lakes through Okanagan Wine Country and cycle the awe-dropping Myra Canyon trestles.  Keep your eyes open for wildlife — eagles, osprey, herons — and you just might spot a bear or moose!
You'll feel as if you've stepped back in time as you explore some of the hidden gems throughout BC on The Great Trail and Kettle Valley Railway and you'll come away with a huge appreciation of all that BC has to offer. Head Into The Wild with Paul and see what you will discover.