The Galloping Goose Trail is named after the passenger train #15813 that ran twice a day from Sooke to Victoria from 1922-1931. The trail is popular and it makes for a great 2-3 day trip. There are many BBs and campgrounds along the route to make the ride a multi-day event.
Distance: 55km one way
Rating: Easy, flat hardpacked trail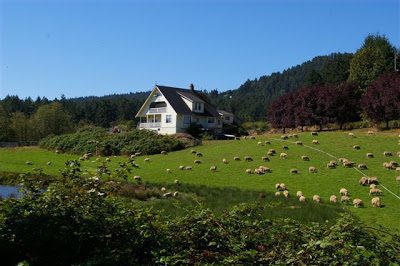 Tips and Links:
Thanks to reader Ivan for sharing his photos and day on the trail. He says: "Just did the GG trail last Sat. Ride is excellent.Started about 10:30am and finished at the Pub at 1:30pm.( I am 69yrs and the ride was OK for me.) It was 40 Km from Best Western Hotel on Quebec St Victoria to Sooke on the HWY where the rail bed heads north to Leechtown. There is a restaurant /Pub right there on the to end your trip if you wish to be picked up." 
Tessa of Blythwood Bed and Breakfast in Sooke BC writes, " I live right next to the Galloping Goose in Sooke (ride my horse on it all the time, as well as bike and walk) and have just opened up a small B&B.  My accomodation is clean and cozy and operates in a low-key manner; much like the way bed and breakfasts were years ago when I travelled in England – affordable and homey.  You can sit in the garden after your ride and look at my horse in his field!"
For a multi-mode trip, ride the Galloping Goose and return to Victoria by bus! It's fast and easy. Buses have bike racks with room for two bikes.  Here's a video on how to load your bike onto the rack and a link to the Sooke-Victoria route schedule.