For a fun trip take the Tsawwassen ferry to Swartz Bay and ride to Victoria on the Lochside Trail. The well-signed 29km route is mostly flat and suitable for all ages and abilities. Ride, walk or roll down paved or gravel country roads and trails, through backyards and farmlands, enjoy beaches and wetlands on this fun route. Visit Sidney and walk the Waterfront Trail, take a picnic to Cy Hampson or Island View Park, stop at Michell's and Mattick's Farms, and take a photo with Old Farmer Roy on the Blenkinsop Trestle. At the Switch Bridge connect to the Galloping Goose to Victoria.
Distance: 29km each way
Details: flat, easy, well-signed and interesting route with a variety of paved or hardpacked trails, some quiet roads
*BIKE BUS – Again this summer the Translink "Bike Bus service will provide extra capacity for bicycles between Bridgeport Station and the Tsawwassen Ferry Terminal."  For more information go here.
NEW BOOK ! Let's Go Biking to Vancouver Island, Gulf Islands & Sunshine Coast! 
Get your copy of the new Galloping Goose Map, available at your local bike shop or bookstore and available in print or eBook at Let's Go Biking to the Islands!
View Lochside Trail in a larger map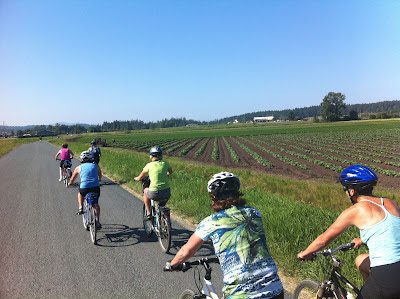 Useful Links
Reader George writes: "Here's a video of a bike trip we did a few weekends ago on the Lochside trail (and Vancouver as we went from Granville Island all the way to Victoria and back). They took the skytrain to 22nd Street, crossed the Alex Fraser and followed the bike route to Tswawassen. He says: I recommend this trail to everyone. We had a lot of fun."  https://vimeo.com/131271124