The San Juan Islands are perfect for island hopping and traveling by bike. What's better than loading up the panniers and heading out on a car-less journey to many islands linked by ferries. There's lots to explore and the riding is quite easy on country roads, with Mount Baker views, beaches, coves and rolling farmlands — the San Juans have it all.
Ferries link the islands from Anacortes Washington to Sydney near Victoria BC
You can park at either end and ride aboard the ferry for a summer biking get-a-way.
Check the Ferry Schedule before you go.
SAN JUAN ISLAND
– one of the largest islands and there are many routes and loops to explore. Traffic is minimal and the roads are good for biking. There are dozens of hotels and B+B's to choose from.  Friday Harbour is a quaint town with lots of restaurants and shops.  Roche Harbour has some accommodation and a good restaurant in the old hotel.  Depending on your skill and distance level you can ride all day long or choose a shorter ride each day.  San Juan Island Trails Committee has a Great Map.
Here's some rides we have done: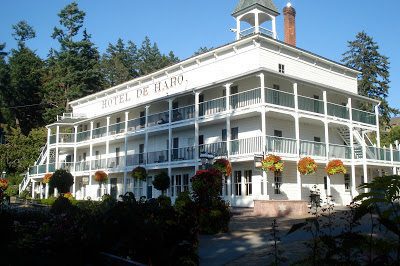 1 – Around the Island – the longest of the loops, can be done in a day or stay at Friday or Roche Harbour for one night and make it a two day ride.
2 – American Camp
– an easy (almost flat) 26km loop from Friday Harbour out to the National Historic park on the southeastern tip of San Juan Island.  We rented bikes from Island Bicycles near Friday Harbour. They were super – set the bikes up for us with safety gear and set us out with maps in hand. Plan to spend some time at American Camp – take
a picnic lunch, lock up the bikes and explore the trails. More information here. Link to more American Camp Ride information and map.

3 – Lavender fields, whales and a lighthouse:
This route starts at Friday Harbour and heads west to the lavender farm and along the west coast to Lime Kiln
Lighthouse. Keep your eyes open for whales on the west side of San Juan
Island as they often feed and travel along this shore.

LOPEZ ISLAND –
this is my favourite island for cycling – it's the flattest of the islands, the
country roads have minimal traffic and the scenery is spectacular – rolling
farm fields, daisies, and sea views.
There's lots to explore on Lopez Island so plan to spend a night there
if you can – we stayed at MacKay Harbour House and made our day trips from
there.  We had dinner at The Bay Cafe in Fisherman's Cove.  The link to their website also lists nearby accommodation. Link to more Let's Go Biking on Lopez Island cycling information and map.
ORCAS ISLAND – is the hilliest of the islands and with more car traffic. Eastsound is the main village on the island with lots of shops, restaurants and accommodations. Olga Bay is worth a visit by boat or bike. Link to Let's Go Biking to Orcas Island.
SHAW ISLAND – we took the early ferry to Shaw and did a loop around the island and then picked up a later ferry and headed to the next island.  Just near the ferry terminal is the Shaw Island General Store – a good place to visit.
GUEMES – this small island is close to Anacortes. It's flat and easy and a quick day trip from Anacortes.
5 days Away – San Juan Islands
This is the trip five of us took one year and was an excellent route…
Day 1 – park at the Anecortes ferry lot and roll the bikes on board.
Arrive in Friday Harbour –  cycle American Camp loop
Day2 – more exploring in on San Juan Island
– ride out to Lime Kiln Park, Lavender fields and island loop.
Day 3 – took ferry to Shaw Island – quick ride between ferries. Board ferry for Lopez Island and explore Spencer Spit
Day 4 – Lopez – stayed at MacKaye Harbour house and did the Lopez Island Loop with a hike at Iceberg Point.
Day5 – Lopez – Board ferry for Anacortes then ride to Guemes Island ferry.
Got a picnic lunch at Anderson's General Store, circled the island, lunched at the north side  then back to cars and drove home.
A Great Summer Get-Away.