Lopez Island is the flattest of all the San Juan Islands = a great place to ride with kids. There are many routes to discover.  Here are two we have enjoyed:
LOPEZ – SOUTH ISLAND LOOP
We rented bikes at the Lopez Bicycle Works on Fisherman Bay Road. Not only are his good fleet of bikes in top repair, you can also buy some of his wife Linda's (delicious) Blackberry Jam and other canned goods. The ride starts with a climb south out of Lopez Village then it is an easy trip on rolling hills through farms and along the coast with glimpses of the ocean. Stop at Shark Reef park and spot seals perched like anvils lying in the hot summer sun. Head south along the beach past Mackaye Harbor Inn — a bed and breakfast that is high on my list of Favorite Places to Stay.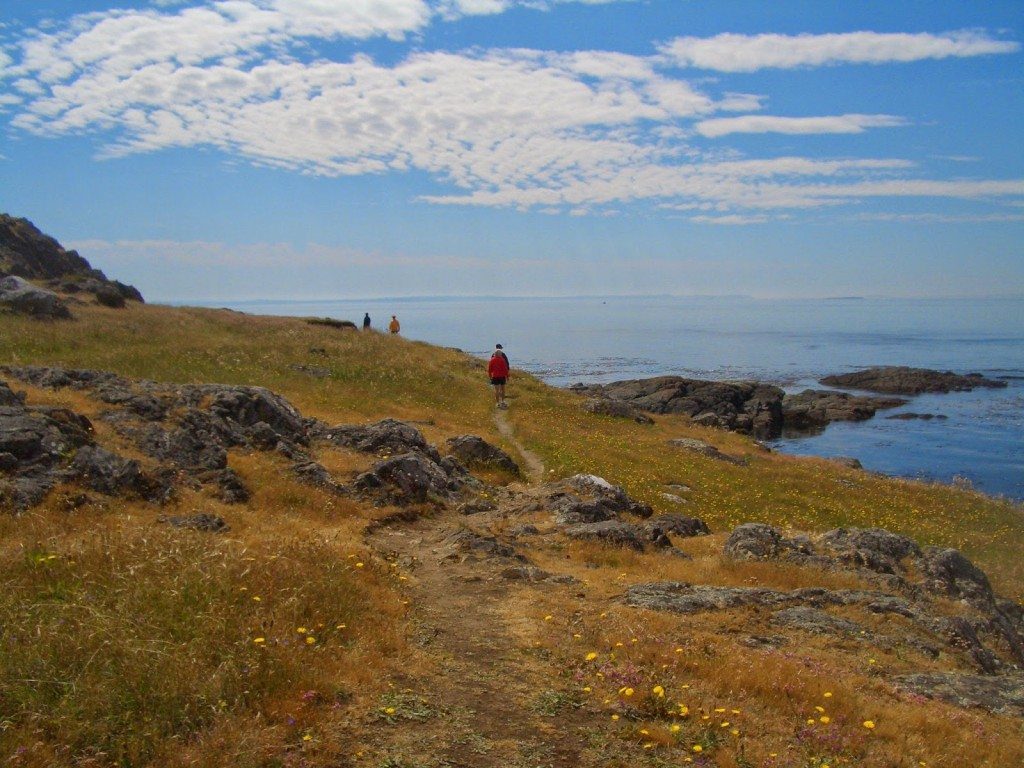 The entrance to Iceberg Point is just past the beach. Park your bikes in the rack and go the rest of the way on foot. Trails criss-cross the park and along the cliff edge.
We took a different route back, zigzaging through more farms. My favorite was the hillside of yarrow — spectacular. We were exhausted from the heat on the last stretch and were glad to get back to Lopez Village for the promised reward of a ice cream from the Lopez Island Creamery. We found out later that that day was the hottest day ever recorded. Beer-o'clock on the boat never tasted so good.
Here's the route:
This year we started at the bike rental at Spencer Spit.
Here's our route.
LOPEZ – Spencer Spit to Lopez Village 12km
Bikes are available for rent at Spencer Spit  – near the ferry dock on Lopez Island. It's an easy 6km ride from Spencer into Lopez Village for ice cream and you can watch the boats meandering in the narrow channel to the marina.  Return back to Spencer for a 12km ride.
Spencer Spit to Lopez Village – CUE Sheet
WEST Bakerview Road
LEFT Port Stanley Road
LEFT Hummel Lake Road
RIGHT Fishermans Bay Road
LEFT Lopez Road

LOPEZ – Fisherman Bay Preserve 15km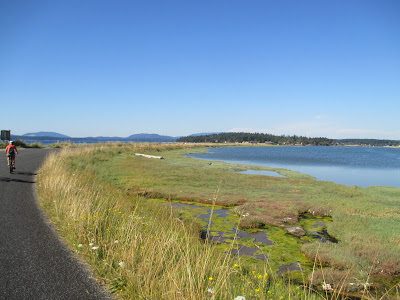 For a scenic and FLAT ride head out the Fisherman Bay Preserve and spit. There's lots to see and do out on the sandy spit and many trails to explore.

FISHERMAN'S BAY RIDE – CUE Sheet
SOUTH Fishermans Bay Road
RIGHT Bayshore Road
LEFT Penninsula Road to park gates
Park/Lock and walk trails to the end of the spit.Here's the routes: