Ride in the Seymour Lower Conservation Reserve on a car-free paved multi-use trail rolling through the forest to the Seymour Dam. A great ride on a hot summer's day under the canopy of hundred-year-old trees. Bring a picnic and enjoy the lake view from the observation point, explore the Bear Creek Bridge, peek at the fish hatchery, then return via same trail or try the hilly adventurous Spur 4 route on the east side of Seymour River.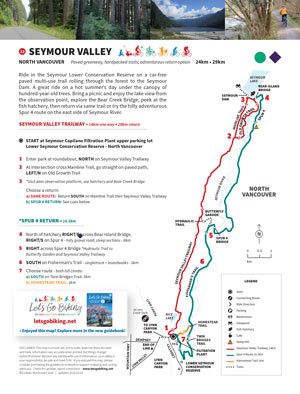 Get the route map (PDF) by entering your name and email address below.
You'll be subscribed to my monthly newsletter if you're not already a subscriber.
I will not sell or distribute your email address. Your information will be kept confidential. You may unsubscribe anytime. Questions? Email colleen @ letsgobiking.net
I agree with the
Terms & Conditions
Check before you go: Seymour Valley Advisories
Rider's Notes: "Spur 4 route is very hilly, steep in some sections, with rougher terrain and boardwalks, though that was fun." 
Spur 4 Route (for advanced + adventuresome riders)
 
Gallery:
Thanks to Andrew for suggestions and photos … keep 'em coming!