Explore Town Centre Park and the Coquitlam River on this easy ride. Accessible by Skytrain, the park has many paved trails ― great for beginners. Linking east from the park is the Coquitlam River trail, a nice woodsy ride along the river and it's part of The Great Trail. It's a good ride for a hot summer evening or in the fall when the leaves crunch under tires. At the Blue Bridge, connect to the Poco Trail route for a longer ride.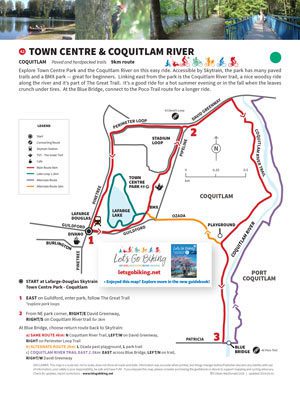 Get the route map (PDF) by entering your name and email address below.
You'll be subscribed to my monthly newsletter if you're not already a subscriber.
I will not sell or distribute your email address. Your information will be kept confidential. You may unsubscribe anytime. Questions? Email colleen @ letsgobiking.net
I agree with the
Terms & Conditions