Tucked away under New Westminster's bridges is a quiet island getaway. In summer, the Q2Q Ferry runs from Westminster Quay to Port Royal. With very little traffic, a pathway around the eastern tip and a long dyke trail, there's lots to explore in Queensborough.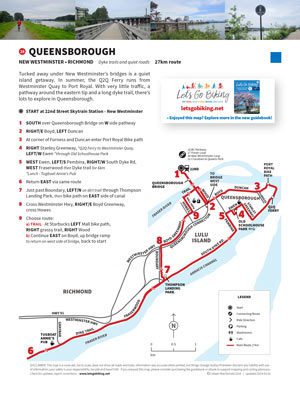 Get the route map (PDF) by entering your name and email address below.
You'll be subscribed to my monthly newsletter if you're not already a subscriber.
I will not sell or distribute your email address. Your information will be kept confidential. You may unsubscribe anytime. Questions? Email colleen @ letsgobiking.net
I agree with the
Terms & Conditions
 Exciting News – the ferry continues from Quayside to Queensborough! Now you can take the ferry from Westminster Quay over to Queensborough for lunch at Rozzini's or Tugboat Annies – we did that this week!  Read more here Q to Q Ferry 
Erin writes, "Tugboat Annie's doesn't allow any minors, but you can order from their menu in the cafe around back where you can sit with kids."