When you're ready to explore a bit of singletrack and some trails south of the border, try the Bellingham Interurban Trail. The trailhead starts just south of Fairhaven along an old railbed that has been resurrected as a walking and riding trail.  It is fun to explore.

Some of the old trestles are washed out in the Arroyo section, but you can walk your bike around those obstacles and enjoy a day in the woods above Chuckanut Bay.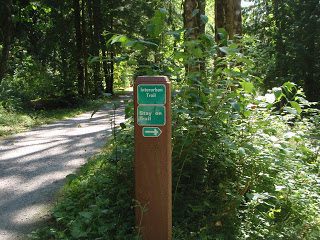 We continued into Larrabee State Park and then returned on the Chuckanut Drive back to Bellingham, but you can turn back and ride the Interurban Trail into town if you prefer.