She'll Be Coming 'Round the Mountain on this ride! Loop around Burnaby Mountain ― hills, crunchy trails and a bit of Wahoo! singletrack. For the full route, start from Port Moody and climb up through the hills of Glenayre; or shorten the ride by starting at Burquitlam Skytrain and ending at Moody Centre Station.  A fun and rollicking ride!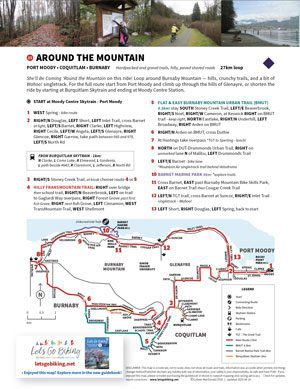 Get the route map (PDF) by entering your name and email address below.
You'll be subscribed to my monthly newsletter if you're not already a subscriber.
I will not sell or distribute your email address. Your information will be kept confidential. You may unsubscribe anytime. Questions? Email colleen @ letsgobiking.net
I agree with the
Terms & Conditions