Explore the shores of the Fraser River on this loop. The route is flat with varied terrain, a mix of easy park trails and bikeways, and busy road sections with no bike lanes. Start in Burnaby from the 22nd Street Skytrain or Marine Drive Skytrain in Vancouver.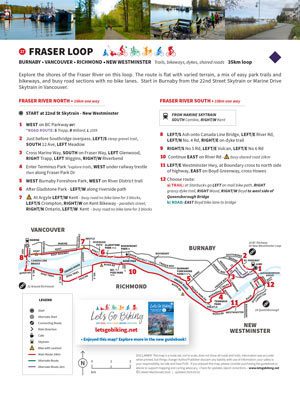 Get the route map (PDF) by entering your name and email address below.
You'll be subscribed to my monthly newsletter if you're not already a subscriber.
I will not sell or distribute your email address. Your information will be kept confidential. You may unsubscribe anytime. Questions? Email colleen @ letsgobiking.net
I agree with the
Terms & Conditions
Alert – JULY2020 – Detour in effect between Boundary Rd and Kerr, for more information City of Vancouver website
Thanks to blog reader Crystal for letting us know "there is construction 1km east of the Burnaby Foreshores Park and we had to turn around.  There was no signage till you reached the 1km mark and there is a gate blocking the way."  Trails are being created in the area known as Terminus Park, so hopefully the route will be open soon with lots more to explore.  In the meantime here's a detour heading WEST: Stay on North Fraser Way, LEFT/S Tillicum, RIGHT/W into Fraser Foreshore Park.