One day the Canyon to Coast Trail will stretch from Hope to the Salish Sea along 550 km of trails. This section of the trail in Chilliwack parallels the Fraser River and connects two parks: Island 22 to Ferry Island. The route is also part of The Great Trail. Bring your camera for the stunning views of the Cascade Mountains and farmlands.  Pick up a picnic lunch in downtown Chilliwack and enjoy the dyke trails or return via country roads.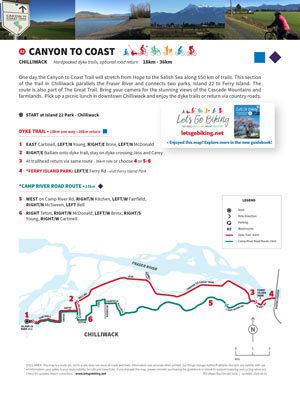 Get the route map (PDF) by entering your name and email address below.
You'll be subscribed to my monthly newsletter if you're not already a subscriber.
I will not sell or distribute your email address. Your information will be kept confidential. You may unsubscribe anytime. Questions? Email colleen @ letsgobiking.net
I agree with the
Terms & Conditions
For more information on the Canyon to Coast Trail see Experience the Fraser Routes,  FVRD website , MetroVan video and  Experience Fraser MRNews
Updates & News:
Thanks to BlogReader Ryan H for adding more fun information to this ride: "A few weeks ago, myself and few friends followed your route and rode the Canyon to Coast trail from Island 22 Park to Ferry Island Park and back. Riding through the fields, catching glimpses of the Fraser river, and exploring an area of our "backyard" that we've never explored was the perfect way to spend a Saturday. One of the highlights from our ride was stopping at Meadowland Flowers along Camp River Road and hanging out with the animals in the petting zoo! We rode back to the car with a few mini pumpkins and a new succulent in our bags!