Nanaimo is fun to explore — the Parkway Trail, Trans Canada Trail and E&N Rail Trail are paved and separated from cars. The Waterfront Walkway is great for a slow roll, and there are many cafes and shops along the route. There are walking trails on Saysutshun/Newcastle Island and Westwood Lake has a walking and cycling loop trail. Mountain bikers have dozens of singletracks to ride in the hills west of town, hike or bike to The Abyss, a huge earthquake fissure. Explore the town, take the ferry to Saysutshun/Newcastle Island, or the Dinghy Dock, and be sure to have one of the world famous "Nanaimo Bars".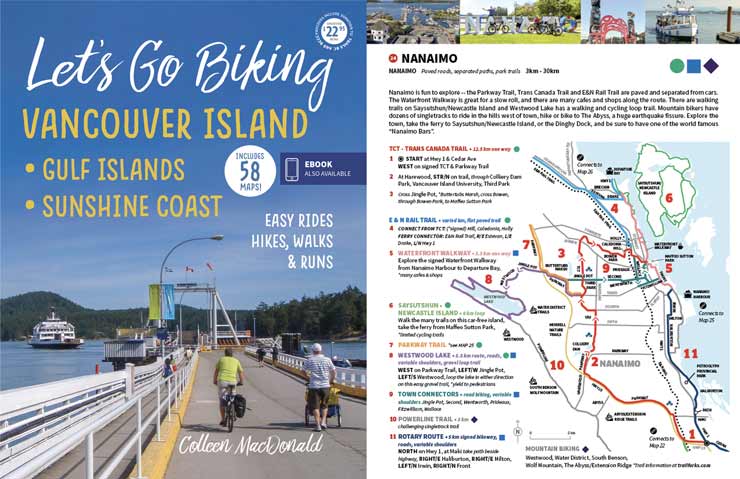 NEW BOOK ! Let's Go Biking to Vancouver Island, Gulf Islands & Sunshine Coast! 
This summer explore Nanaimo with the all-new map in the new Islands book. There are many exciting places to visit and explore.  Pick up a copy at your local book store or bike shop, or order on-line at Let's Go Biking.
The Trans Canada trail route through Bowen Park is a delight and you can visit the Buttertubs Nature Reserve. Ride the Parkway Trail all the way past Collier Dam Park.  This route through Nanaimo is great for riders of all ages and abilities! For intermediate riders there's some single track trails through the Morell Sanctuary and along the power lines to Westwood Lake.  There are paved and hard-packed trails around the lake with only a few spots that would pose a challenge for beginners and chariots. The lake is great to see and the path around is easy and fun. The hills are easy and Nanaimo is well on its way to becoming a very good biking community!