Just north of the Vancouver Airport is an easy ride with a combo of dyke, road, and would you believe it — a 4km jetty into the ocean! You might see jets landing and taking off, and eagles, herons, and cormorants fishing. There are beaches, parks with picnic tables and it's all flat!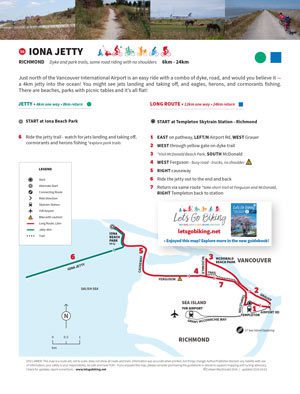 Get the route map (PDF) by entering your name and email address below.
You'll be subscribed to my monthly newsletter if you're not already a subscriber.
I will not sell or distribute your email address. Your information will be kept confidential. You may unsubscribe anytime. Questions? Email colleen @ letsgobiking.net
I agree with the
Terms & Conditions
Iona Park has views out to Vancouver Island and it's a great place to take a picnic lunch.
The Iona Jetty juts out nearly 4 km into the Strait of Georgia and visitors can walk or cycle on the gravel trail atop and beside the large pipe that stretches the length of the jetty. It's fun to ride out to the end and you might spot seals, herons, and eagles along the way.