For those who love birds and ducks and geese (and who doesn't?) how about a ride to the Reifel Bird Sanctuary on Westham Island? Start from Ladner for an 18km ride or start from Westham Island bridge for a shorter 10km ride with less traffic. There are seasonal farm stands and a winery along the way. Bring a bike lock and binoculars, take a walk on the trails, and see the birds at Reifel.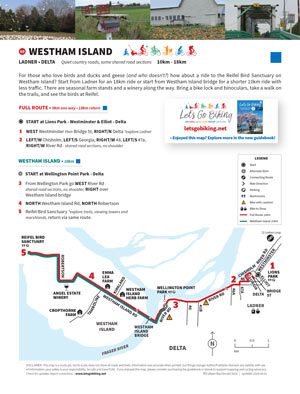 Get the route map (PDF) by entering your name and email address below.
You'll be subscribed to my monthly newsletter if you're not already a subscriber.
I will not sell or distribute your email address. Your information will be kept confidential. You may unsubscribe anytime. Questions? Email colleen @ letsgobiking.net
I agree with the
Terms & Conditions
If you plan to visit the Reiffel Bird Sanctuary, advance reservations are needed.
Reader Sandra J says, "Along with Angel Estate Winery on Westham Island, noted seasonal farm stands (spring, summer and fall) are: Emma Lea Farms with ice cream shop, Westham Island Herb Farm with farm animals to view, and Cropthorne Farm. They are all beautiful to visit.
Useful Links
Delta bike map – pocket version available at libraries and City Hall