For a quiet ride with the kids, try Brunswick Point in Ladner. There's lots of bird watching along the shores – keep your eyes open for flocks of ducks, fishing herons, eagles, and migrating birds. A great ride for those who like cycling on dyke trails amidst wildflowers and looking west over the straight of Georgia.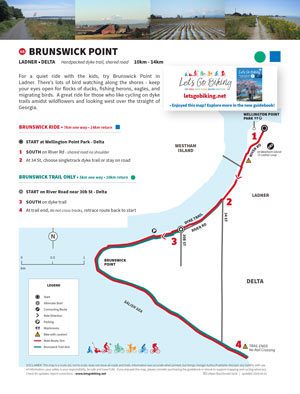 Get the route map (PDF) by entering your name and email address below.
You'll be subscribed to my monthly newsletter if you're not already a subscriber.
I will not sell or distribute your email address. Your information will be kept confidential. You may unsubscribe anytime. Questions? Email colleen @ letsgobiking.net
I agree with the
Terms & Conditions
Useful Links
Delta bike map – pocket version available at libraries and City Hall