If you build it, they will come! Port Moody's Shoreline Trail bike path has been a success since the day it opened.  Families come from all over to cycle this easy and fun route on a separated paved bike path around the end of Burrard Inlet.  There are two paths – one for walking and one for bikes.  The path is well marked with two-way directions. There's lots to see – birds and wildlife, a fish hatchery, two parks, playgrounds, and there are many restaurants nearby.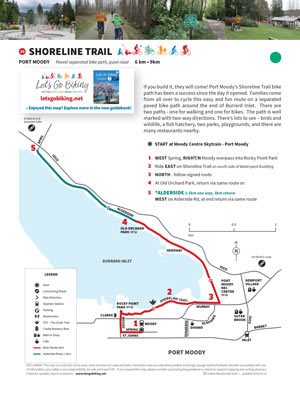 Get the route map (PDF) by entering your name and email address below.
You'll be subscribed to my monthly newsletter if you're not already a subscriber.
I will not sell or distribute your email address. Your information will be kept confidential. You may unsubscribe anytime. Questions? Email colleen @ letsgobiking.net
I agree with the
Terms & Conditions
VIEW the Soh Family video of the Shoreline Trail