For a great city ride through New Westminster, Burnaby and Vancouver, take the BC Parkway.  The route is mostly flat and follows the SkyTrain most of the way. It's 18km long from the Patullo bridge to Trout Lake, 36km if you go out and back. I start at 22nd Station, have lunch on Commercial Drive and take the train back.  For a 45km loop, connect with Central Valley Greenway.
Ready to PROOF-RIDE & PROOF-READ
Link to Printable Map 018 BC PARKWAY – 2018-04-16
You can start in New Westminster or Vancouver and then ride the SkyTrain back to your start point –– a very handy thing when one has tired kiddies or if rain hits unexpectedly!  The Drive is a great place to have lunch – Sweet Cherubim for salad and Indian dishes, Moja Coffee and JJ Bean, Carthage Cafe, Marcelos, Havanas, BierCraft. Banditos – Mmmm – of course there is so much more on The Drive! One day we hope Commercial Drive will have a Streets for Everyone safe bike lane, but for now take a ride on the Woodland Drive Bikeway past murals and mosaic art.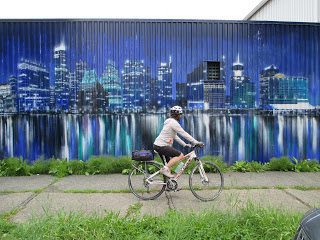 Behind Brittania School there are many neighbourhood murals
After lunch retrace your route — it all looks different when you're heading in another direction or make a loop and take the Central Valley Greenway back to your start.