Gabriola is a short ferry ride from Nanaimo. Loop around the island, visit Folklife Village, the S'ul-hween X'pey Elder Cedar Forest and Silva Bay. Walk the trails at Drumbeg Park, and see the many rock carvings at Petroglyph Park. Mountain bikers can ride the flow trails in 707 Community Park, and ebikes are great for the north island's parks and beaches. The Malaspina Galleries, sandstone rock formations carved by waves are a 'must-see'.  Walk the beach at Gabriola Sands Provincial Park, head up to Orlebar and Berry Point for views of Entrance Island Lighthouse and stop for lunch at the Surf Lodge. 
NEW BOOK ! Let's Go Biking to Vancouver Island, Gulf Islands & Sunshine Coast! 
There's an all-new map in the new Islands book with many exciting places to visit and explore.  Pick up a copy at your local book store or bike shop, or order on-line at Let's Go Biking to the Islands.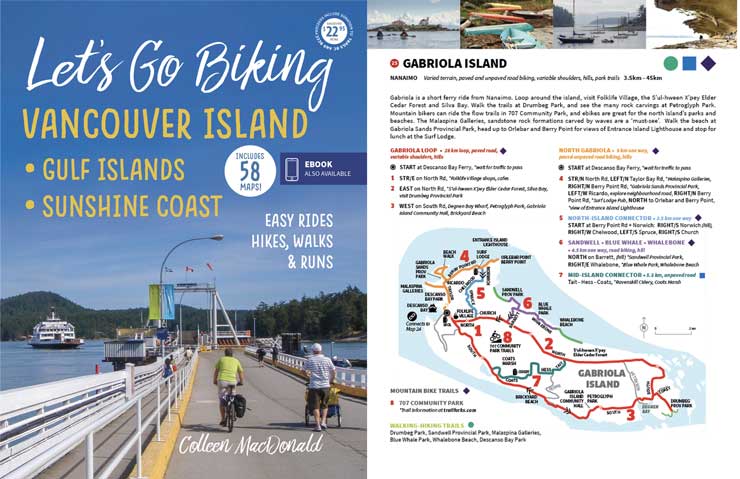 • There's lots to explore on Gabriola: amazing petroglyphs, beaches and parks. For more local walks, pick up a copy of the Walking Trails Map.