Take Evergreen Skytrain line to explore Coquitlam's parks. From Burquitlam Station the route runs through neighbourhoods and parks. Visit the playground and sculpture garden in Blue Mountain Park, circle Como Lake, and ride through the urban forest in Mundy Park. Return via same route or take Coquitlam Crosstown downhill to Town Centre Park and hop on the Skytrain at Lafarge-Douglas station.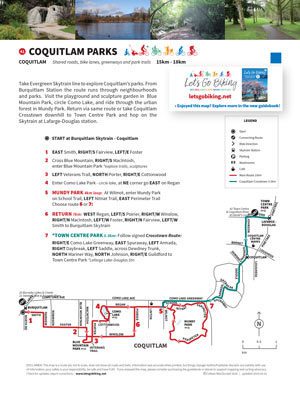 Get the route map (PDF) by entering your name and email address below.
You'll be subscribed to my monthly newsletter if you're not already a subscriber.
I will not sell or distribute your email address. Your information will be kept confidential. You may unsubscribe anytime. Questions? Email colleen @ letsgobiking.net
I agree with the
Terms & Conditions