This is an undulating ride and you'll see why we call it Roller Coaster when you Wahoo! down Olund hill. It's 40km of ups and downs, but mostly downs, and is one of our favourite rides.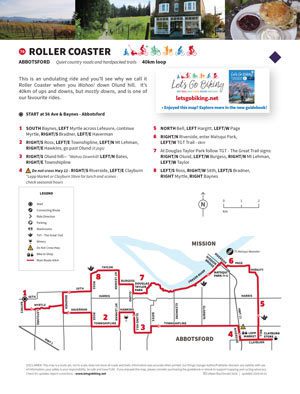 View route map
Rider Alert: Start at 56th Ave & Baynes
Okay I confess…do this ride just to have the most delicious SCONES in the world…at the Clayburn Store
Clayburn Store for lunch, call ahead for opening hours


Things to see along the way:
Bradner Store
Corn as high as an elephant's eye
Kiwi growing on vines
Mt. Lehman Winery!
Vineyards
Mt. Baker – on a clear day
Matsqui Trail
Rolling hills
Mountain views
Fraser River
And so much more!
Route Update:
Thanks to Robert for this alternate route suggestion: "When riding west on Taylor, instead of turning left on Ross, stay on Taylor follow it as it swings right onto Satchell.  Then Left on McTavish and L on Bradner.  That will keep you off 58 Ave (Harris Road) which can be very busy."  (see map)
Useful Links
Clayburn Store is Great!  Check opening hours as they are closed May, September and January