If you are travelling to the Okanagan head to Oliver BC and ride or walk the Hike & Bike paved path along the Okanagan River Channel.  The 18.4 km trail is mostly paved through Oliver.  The section south of Oliver towards Osoyoos is gravel. The Oliver Visitor's Center has free parking and a nearby playground. At Road 22 there's a parking lot and access to the Osoyoos Oxbows. For a fun loop ride down Black Sage Road and visit a few wineries! For two 
all new maps of Oliver
with turn by turn directions, things to see along the way, and connecting routes, pick up a copy of the new book
Let's Go Biking to the Okanagan & Beyond
. Available in BC bookstores, bikeshops and gift shops or order book and ebook online at
Let's Go Biking Books.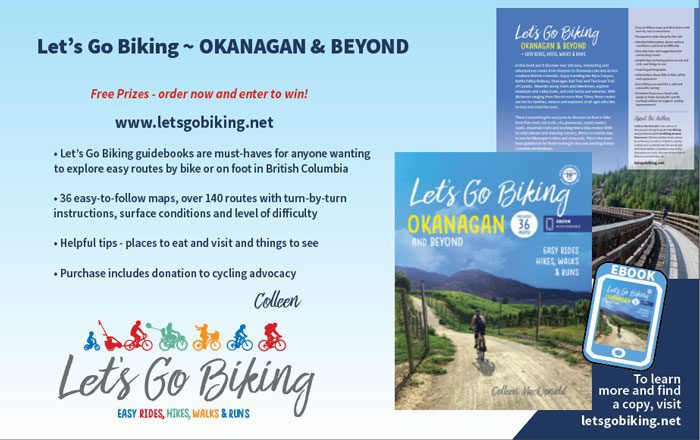 things to see along the way, and connecting routes, pick up a copy of the new book
Let's Go Biking to the Okanagan & Beyond
. Available in BC bookstores, bikeshops and gift shops or order book and ebook online at
Let's Go Biking Books.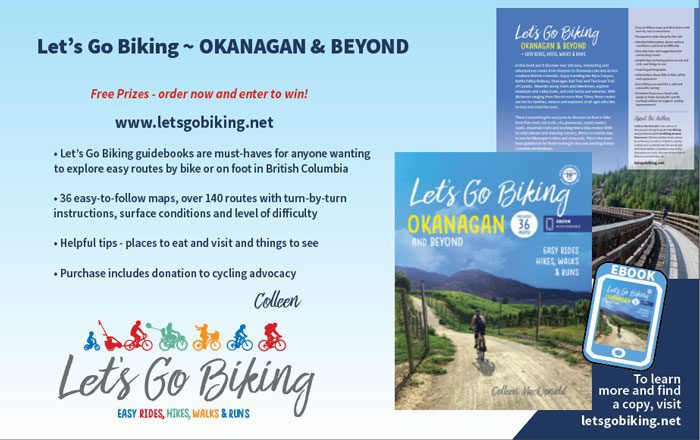 Distance – 10km, easy and flat paved pathway
Extend the ride:
Oxbows:
 From Oliver head south 8 km towards Osoyoos Lake for some great bird watching.  You might see an Osprey nest or two high on poles. This section of the trail is unpaved and bumpy in sections.  If you want to start this trail from the south end and head north to Oliver, start at the parking lot on Road 22 where the trail meets the bridge.  The Oxbows trail goes south for about 1km.
Useful Links
More information on Oliver and other bike routes in the area:  Link to Oliver Tourism Info
Monashee Bike Tours can arrange a day trip and provide bikes and a guide!