For an exciting new ride, head over to Vancouver Island's Wild West Coast and ride the new multi-use trail connecting Tofino and Ucluelet through Pacific Rim National Park. The ʔapsčiik t̓ašii (pronounced ups-cheek-tashi) path is one of the best things to do in the Tofino to Ucluelet corridor and is a game changer for those wanting to explore the park.
ʔapsčiik t̓ašii means "going the right way on the path" and with this path every direction is 'the right way.' I was thrilled to see cyclists, rollerbladers, wheelchair users, families using the trail and it was especially fun to see surfers with their boards strapped to their bikes! (Bob Herger photo)
The path weaves in and out of the rainforest and towering trees, over boardwalks, through bogs and connects some of the most beautiful beaches on the Island. The trail was designed to be environmentally friendly: the sensitive salmon habitat has been protected and there are amphibian tunnels under the highway to help the northern red-legged frogs move from the bogs where they breed into the surrounding forest.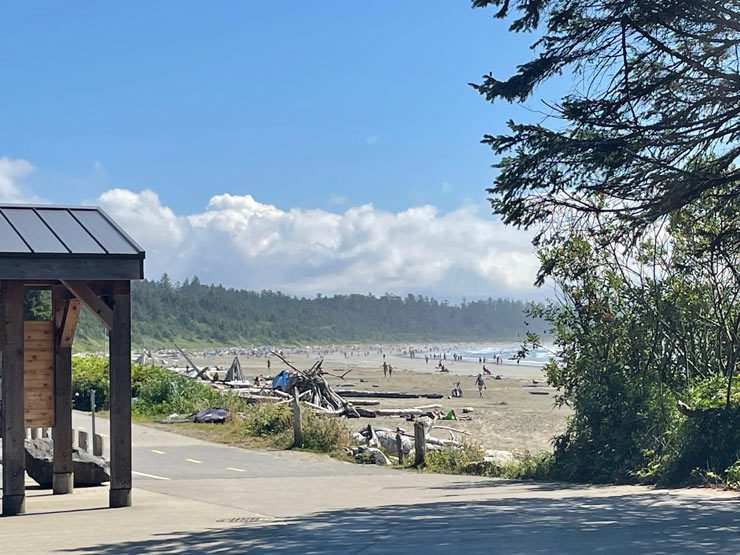 In addition to the trail in the park there is a connecting multi-use trail into Tofino and a 9m stretch into Ucluelet, providing an almost seamless 80 km return bike ride. (Note: There is a 1km missing stretch of trail from the park boundary to the start of the Ucluelet multi-use path — you will need to ride on the highway shoulder.)
There's plenty to see along the route – from beaches to rainforest hikes. Lock up your bike and explore the beaches, or take a hike on the Ancient Cedars Loop Trail, hike Radar Hill, explore the Rainforest Trail, and visit the Kwisitis Visitor Centre at the south end of Wickaninnish Beach. For a fun twist, take a 14km ride on the hard packed Long Beach sand.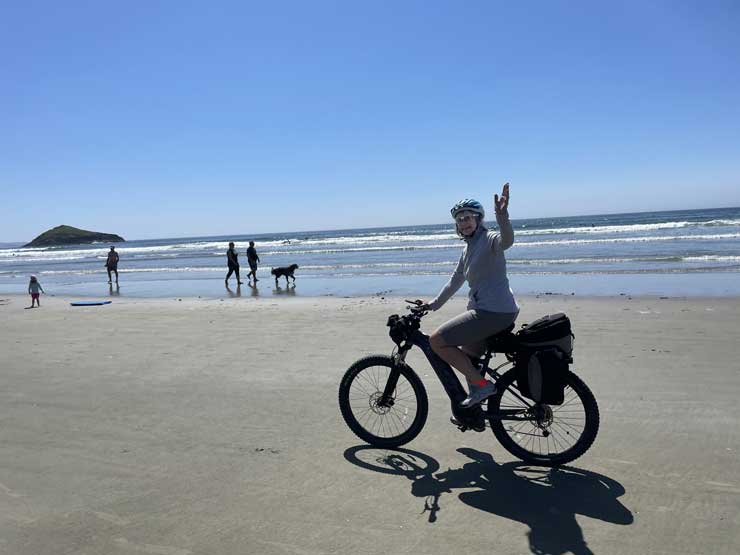 Get your copy of the NEW BOOK! Let's Go Biking to Vancouver Island, Gulf Islands & Sunshine Coast! ~ Available at your local bookstore or online at Let's Go Biking